The British Columbia housing market showed improvement in July with residential sales up 12.4% year-over-year.
The latest assessment of the market from the British Columbia Real Estate Association reveals 7,930 home sales through the MLS system in July.
The average residential price in the province was $684,497, down 1.6% year-over-year but total sales dollar volume was $5.43 billion, a 10.5% increase from the same month last year.
"BC home sales climbed higher for the first time in 18 months on a year-over-year basis in July," said BCREA Chief Economist Cameron Muir. Housing demand has also trended higher since March, rising 21 per cent on a seasonally adjusted basis. "Households appear to be adjusting to the tighter credit environment as the shock of the B20 stress test dissipates."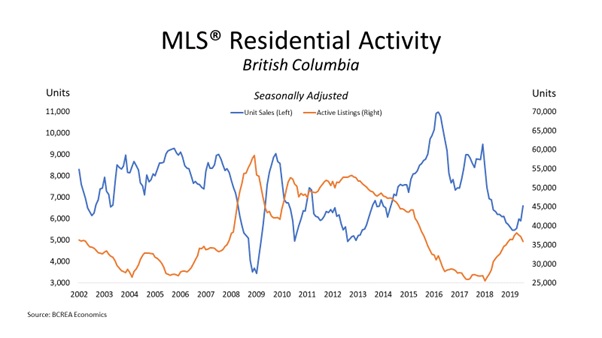 Listings ease
While new listings in July fell 3% from the previous month on a seasonally adjusted basis, inventory was 12.4% above that of a year earlier with 41,621 units available for sale.
Sales-to-active listings ratio at 19.1%, similar to a year earlier.
Year-to-date, BC residential sales dollar volume was down 18.9% to $30 billion, compared with the same period in 2018. Residential unit sales decreased 14.4% to 43,612 units, while the average MLS® residential price was down 5.3% to $687,413.